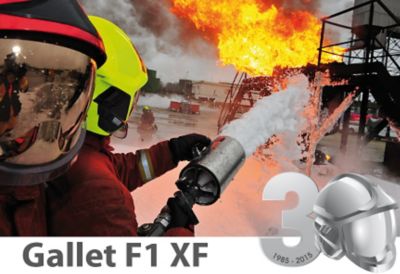 2015 was a year of key achievement for the Gallet F1 XF structural fire helmet.
First of all, MSA was proud to celebrate the 30th anniversary of the F1 helmet. Developed in 1985 together with the Paris Fire Brigade, it was the first jet-style helmet in the world, with a revolutionary concept of protection, design and integration of functions. Since 1985, there have been 4 generations of F1 helmet to enhance the level of protection, increase the comfort and fitness to various user faces and head sizes, and integrate various accessories to make fire fighters' lives easier. MSA is the undisputed market leader for jet-style fire-fighting helmets, with over 2 million helmets sold in more than 80 countries since 1985.
MSA celebrated this anniversary throughout the year with its fire service customers with 2 main highlights: a lottery organised during the INTERSCHUTZ 2015 trade fair with 3 winners each day of a special, gold-coated "30 years" edition Gallet F1XF helmet and a contest organised in France, where 30 fire fighters won a collector's edition Gallet F1XF and a visit to the MSA factory in Châtillon, France. It was a great opportunity to show everyone involved in the production process how our customers are emotionally connected with their F1 helmet. The F1 success story goes on…!
Alongside this emotional moment, MSA is also proud to share the success of the Gallet F1XF, the latest member of the F1 family. Introduced just over 2 years ago in November 2013, the Gallet F1 XF structural fire helmet has already had a very significant impact on the fire service market. In 2015, MSA had already sold more F1 XFs than the previous generation. This confirms the huge interest in the new features of the Gallet F1 XF, such as ease of adjustment, extremely good heat protection in real fire environments (typically evaluated in flashover container training), very high durability of the helmet when exposed to severe environments, high level of eye and face protection and adjustability, visual customisation and a greater range of accessories such as lighting and communication.
MSA reports a record year in terms of fire helmet volume, illustrated by 2 very big orders that symbolise the market preference for the Gallet F1 XF. -The Hong Kong Fire and Rescue department (China) ordered 9600 F1 XF fire helmets between October 2014 and March 2015. They raised multiple differentiators: higher comfort, ocular visor with better fit on the face (dual pivot), unmatched face coverage with the visor and the unique customisation solution with the logo process (pad printing). The other success story was the order of 7000 fire helmets for the Fire and Rescue New South Wales Brigade (Australia). In addition to these features, they were impressed by the modularity of the accessories that contribute to safety: Enhanced proximity visibility with Integrated Lighting Module and integrated communication headset connected to their digital radio through MSA's Handycom Remote Speaker Microphone. They decided to equip each fire fighter of the Brigade with a communication headset, since good communication maximises the efficiency of their operations while increasing safety.
Whether a private or public fire brigade, any customer interested in testing the Gallet F1 XF can contact MSA to experience the premium protection of our flagship product.