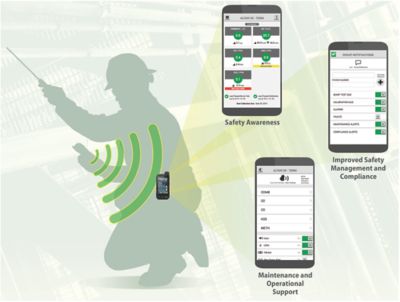 All ALTAIR® 5X Multigas Detectors – standard, PID and IR – now come with integrated Bluetooth as standard!
The Bluetooth platform opens up a world of possibilities in improved safety, flexibility and support for you as a user of MSA Gas Detection. By focusing on Bluetooth integration, MSA has created a scalable and open platform for connected portable gas detection and now offers wireless safety benefits to everyone.
By downloading the MSA ALTAIR Connect App from Google Play and pairing with any compatible Android* device, your gas detector can be turned into an enhanced safety and productivity tool. You'll be able to: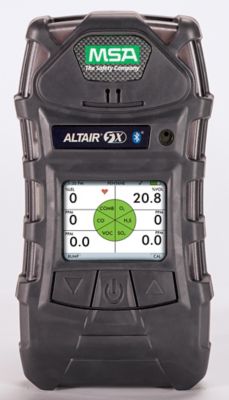 Maximise your Safety Awareness
Visualise key information on your Android smartphone display: live gas readings, sensor health information, various alarms including gas, man-down, bump test or calibration due and remaining battery life
Send automated SMS with Android device GPS location to single or group recipients: gas alarms, man-down alarms, calibration due and cleared alarms
Use the Sampling Mode menu to calculate the duration of your sampling task and then view, save or email your sampling report
Save time via efficient Maintenance and Operational Support
Improve Safety Management and Compliance
View, save and email calibration certifications
Awareness of lone worker or remote instrument events
Open platform allows for integration of third-party engineered systems such as ATEX-approved smartphones
Consider these use cases:
A lone worker is doing his daily work using an ALTAIR 5X & the ALTAIR Connect App. The worker enters a hazardous area and the instrument switches to alarm status. Immediately, the ALTAIR 5X in conjunction with the ALTAIR Connect App sends the alarm via SMS to a single or group of recipients, showing the nature of the alarm, i.e. gas or MotionAlert, and their location via a Google Maps link, allowing safety personnel to quickly attend to the lone worker despite monitoring their workforce from a remote location.
A second use case is that of a confined space scenario. Two workers, in the process of carrying out their daily work, need to enter and work in a confined space. One worker enters a confined space with an ALTAIR 5X and the other worker, outside the confined space, can easily follow the live gas readings of his co-worker's device, being constantly informed of the atmosphere, alarms, etc.
* The MSA ALTAIR Connect App is supported by Android OS versions 4.0 and higher