Facilitating safe access during both aircraft maintenance and construction
MSA's unparalleled vacuum anchor fall protection solutions are designed for safe access to the fuselage, stabilisers and wings. WinGrip can be used during construction, repairs or maintenance of aircrafts both in and outside of hangars.
Flexibility and versatility to satisfy your aerospace fall protection system needs.
The MSA WinGrip® System, a vacuum anchor fall protection solution for aircraft maintenance and manufacturing, can be fixed to wings, fuselage or stabilisers, eliminating the need for an overhead lifeline. Suitable for both fall restraint and fall arrest, the WinGrip can span the length of any aircraft wing and allow access for up to four workers without ever disconnecting. In case a fall should happen, energy is absorbed by the anchor, minimizing load placed back to the aircraft.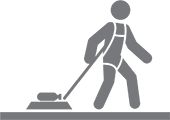 Hands-Free Maintenance
Workers wearing full body harnesses attach to the system via work positioning ropes, enabling hands-free maintenance access for unhindered maintenance time.

Vacuum-Powered
The WinGrip is a vacuum anchor, powered without electricity or batteries. Coupled with no metal on metal contact--which eliminates the risk of sparking--our system is safe to use in potentially explosive environments.

Flexible Usage
The full range consists of four systems and has been designed in a modular way, offering a high level of flexibility whether used as a temporary or permanent safety at height system. Suitable for:
accommodating varying size of aircraft within a hangar space
maintaining aircraft in accordance with manufacturer's guidance
external aircraft access where fixed anchor points are not already in place

Engineered for Safety
The MSA WinGrip System is tested and rated for fall arrest, and engineered with a safety factor of two--limiting load transferred to the aircraft structure. Our system is listed in the Aircraft Maintenance Manuals for the largest European and American manufacturers, who also use our solution during aircraft construction.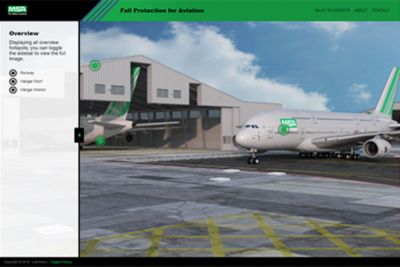 See how WinGrip and other MSA fall protection solutions are used across the aviation industry with our interactive model.
These models are strictly for illustrative purposes only. They do not necessarily represent exact products, use of products, or situations, and MSA makes no representations with respect thereto. MSA shall not be responsible for any loss or damage of any nature (including consequential loss or damage) suffered or incurred, directly or indirectly, resulting from the access to or use of the interactive models by any person(s).