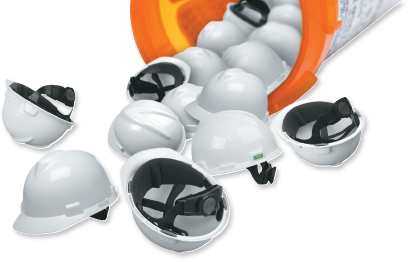 Headaches?
We have the prescription.
Ensuring your workforce wears their safety helmets can be a real headache. MSA, the leading provider of protective helmets, has the perfect remedy: the Fas-Trac® III Suspension. No more safety headaches. No more sacrificing worker comfort for safety.
Key features of the new suspension include:
Sweatband fully covers the headband and worker's forehead.

Three levels of nape strap adjustment for customized fit.

Lower nape strap improves retention - even when bending over!

Smooth ratchet rotation and secure hold.
No change in helmet assembly part numbers!
AVAILABLE NOW
for all MSA helmets, including V-Gard®, V-Gard® 500, V-Gard® GREEN, SmoothDome®, Thermalgard®, Topgard®, Skullgard®, Super-V and Vanguard Helmets.
Need more information about the
Fas-Trac® III Suspension?