Managing Your Gas Detection Program
When evaluating portable gas detection programs, a value-based / total cost of ownership evaluation can be particularly helpful. Once the products have been evaluated for the critical safety, use and durability features that nearly all users require, the purchase price is most frequently looked at as a deciding factor.
What many fail to consider, however, is that the initial purchase price for a portable gas detector or fleet makes up only a small fraction of the total cost of ownership.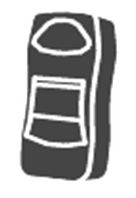 Find out the key variables to consider when making a decision on the total cost of ownership of a portable gas detection program.

Download 'Total Cost of Ownership Considerations for Managing a Gas Detection Program' now.
MSA Gas Detection Solutions
MSA gas detectors are defined by durability, powered by XCell® Sensor technology and are proven to be the most reliable, cost-effective gas detection platform worldwide. For more than 100 years, MSA has been trusted to deliver dependable safety equipment. You can be sure that MSA's gas detection flexible solutions meet your unique gas detection, safety and program management needs.
Detection: Durable, compact single & dual gas detectors and innovative, high performance multi-gas instruments with XCell sensors for Combustible Detection, Toxic Detection, Oxygen Detection, VOC Detection and Confined Space
Compliance: Simple and intelligent testing and calibration with manual & automated system & software
Proactive Safety: Speedy, wireless and instant access to real-time data, automatic record keeping, and field worker tracking with Integrated Bluetooth Connectivity