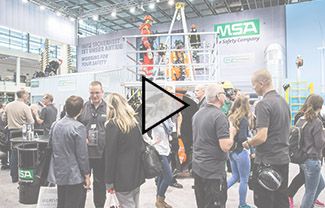 The A+A show was a tremendous success on many fronts – celebration of the new partnership between MSA and Latchways, outstanding reviews of our new products and high traffic at our booth. It was wonderful to continue building relationships with our customers. We received many complements for our unique "industrial plant" booth concept and we hope you enjoyed the MSA product innovations and discussions with our associates.
Reviewing all our A+A visitor reports highlighted the following topics as important for the PPE experts who visited our booth:


New ALTAIR® 5X PID Multi-gas Instrument: Visitors were excited about the most compact PhotoIonization Detector on the market today as the lower weight noticeably increases user comfort.
ALTAIR® 5X Multi-gas Instrument now with

Bluetooth

! When connected with any Android smartphone with the app, alarms are sent automatically to the right people. Visitors applauded the automatic link to the smartphone GPS – now the wearer can be located and helped immediately!
Visitors noticed how complementary the Latchways Fall Protection offerings are to the MSA portfolio. They were impressed that only two days after the acquisition close MSA and Latchways colleagues were already doing joint product presentations as one company! The ease of maintenance of Latchways products was extremely well received by visitors.

Workman Rescuer

was not far behind because of its ease of use and speed of attachment to the tripod.
For confined space applications, the PremAire® Combination Supplied Airline Respirator won visitors over due to the very compact size and wearing flexibility. Customers trying the harness noticed increased comfort compared with all existing solutions in the market.
The new Push-Key & Fas-Trac® III helmet suspensions for V-Gard® helmets are proof of MSA's focus on industrial head protection. Enhanced comfort and innovation with unique adjustability ensured good visitor feedback. Visitors were arranging for field tests at their plants directly after A+A.
Visitors playing the V-Gard® pairs game or watching theV-Gard® wall of fame learned about the modern yet affordable helmet customisation options: 10 shell colours, reflective stickers, badge holder, printing in full colour on all sides, individual naming stickers, etc.
New solutions for Electricians' Head and Face Protection also got great feedback. Due to its compact design, many users from municipal utilities were interested in testing the new V-Gard® Arc Flash Visor class 2.
Visitors stopped by to see the brand new

Helmet System V-Gard® 900

with 360° of protection. They were most impressed by the innovative adjustment systems for the integrated over spectacles and visors. Fitting easily over all corrective glasses but ensuring gap-free eye protection solves the biggest user concern for integrated solutions. Visitors asked for information and samples to test when "V-Gard 900" becomes available in March 2016.
For more information on products and the MSA-Latchways connection, please visit MSAsafety.com or contact your distributor for more information.